Sunrise Addition Phase II
The Manilla Economic Development Corporation in cooperation with the City of Manilla Municipal Utilities is proud to present 16 new single family lots in the Sunrise Second Addition at no cost to qualified individuals or entities that build a new single family residence subject to certain conditions.
The Sunrise Addition Phase I is complete. Twelve new homes have been completed or are in the process of being completed.
Sunrise Addition Phase II, Manilla, Iowa
Single Family Lots Available At NO Cost
A Project of Manilla Economic Development Corporation. In cooperation with the City of Manilla and Manilla Municipal Utilities
These Lots Feature:
Excellent lot size and location
Paved Streets in place
Utilities on site with no hook up fees
5 year 100% tax abatement
Covenants designed to protect your investment
Region XII Council of Governments down payment assistance available with qualified first time home buyers
To qualify for a No Cost Lot in the addition, prospective individuals or entities must build a single-family residence on their lot, which complies with the covenants of the Sunrise Second Addition and the project requirements.
Manilla, Iowa is a vibrant rural community located in the beautiful rolling hills of southern Crawford County. This location provides good access to the county seat in Denison and other larger metropolitan areas, while maintaining an excellent quality of life.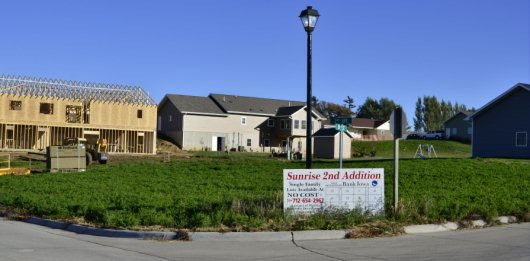 The Manilla community has as its assets:
City owned and operated municipal utilities electric, natural gas, water and sewer
Locally available high speed internet
A City Police Department
Volunteer Fire Department, Rescue Squad and Ambulance
IKM - Manning Schools provide preschool & K - 12 education with a variety of extracurricular activities
Healthcare Services are available through satellite medical and dental clinics
An active business community, providing groceries, fuel, hardware, financial services, insurance, skilled nursing care, and a host of other goods and services from a variety of businesses
The active business community in Manilla and the surrounding areas provides a diverse number of employment opportunities
---
President: Nyle Gruhn
Vice President: Steve Vollstedt
Treasurer: Louis Scheuring
Secretary: Louis Scheuring
Other Members:
Scott Brus
Leonard Kaufmann
Alan Olson
Pat Wuestewald
MED CORP
443 Main Street
Manilla, IA 51454

Bank Iowa (712) 654-2962