Manilla Township
"The town people pull for"

Manilla, Iowa is located in the beautiful rolling hills of southern Crawford County. Minutes from the county seat, Manilla offers access to air transportation and public ground transportation.

Residents, primarily of German descent settled in Manilla in 1886. The new community was then known as a railroad center and boasted a roundhouse with twelve stalls. The choices for the new town's name were Manilla and Paupville, in honor of Les Paup, who had sold the land to the railroad. The choice was made in a community game of Tug-of-War at the 4th of July celebration in Astor and gave birth to Manilla's slogan, "The Town People Pull For." The community still honors its railroad heritage. A Milwaukee Road Caboose Museum is located uptown in the Bandshell Park, and Manilla's entrance sign depicts a steam engine and caboose promoting its 1986 centennial

As transportation changed, Manilla went from being a railroad community to being an agricultural-based community. Seed companies, a Coop, and a Lumber yard are a few of the business's that compliment the agriculture base. Three Churches, a local Newspaper, and the Public School add to the dynamic rural culture. The real strength of Manilla is the people who live and work here, and the pride they take in their community and their heritage.

The primary city event is the annual July 4 celebration, which includes a parade, games, activities and fireworks show.Manilla is of the few communities who still have a parade and fireworks, so these activities draw visitorsform neighboring towns. An Alumni-Day has been established for the third weekend in July.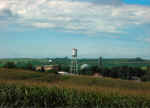 Night fall skyline of Manilla today.