Notable Past Events
We hope you enjoy reading and seeing photos of some of our past events.
Town 25 year Anniversary 1911
Town 75 year Jubilee Anniversary 1962
Quasquicentennial July, 2011
Freedom Rock comes to town June, 2014
Freedom Rock 2014
Freedom Rock Freedom Rock Freedom Rock
With the help of Foster Bulldozer (Manilla), Williams Welding, Inc. (Hamlin), and many, many more volunteers, the Crawford County Freedom Rock arrived in Manilla on Wednesday, May 28, 2014. The rock was transported from a location eight miles east of Irwin on a county road, where it then followed Dove Avenue and proceeded two miles north to town.
---
Town Centennial Anniversary 1986
Centennial Style Show
at Memorial Hall, Pictured here Loretta & Charley Schram, M.C. in back Mark Kirby.
Abu Bekr White Horse performing in Schram Park during the centennial.
First ever toilet bowl race, Manilla Pre Centennial Fun Day - Winner Ken Whitmer (left Pot) Mike Ritchey (right pot) Starter Charlie Schram. June 7, 1986.
Sign on Doctors Building for the Centennial.
Charley's Office Building Head quarters of Manilla Centennial Committee.
All the Hats & Charley.
Linda Schram - Fort Worth TX - right - receiving Congratulations at the finish of 2K run.
Day of big 3 hour parade. Manilla King & Queen Milda & Newt Mc Cracken
June 12, 1986 Loretta-Linda-Charley Schram at the Centennial.
Getting rope pulling machine ready for pulling contests - Charley Schram in yellow jacket.
Linda Schram among the Scarecrows in the Band Shell Park.

Kate Hennessey - Rockford, ILL - receiving congratulations from Jan Hansen after finishing 2K Run.
Centennial Board Chair
Charley Schram overseeing one of the Centennial projects.
Sign at South entrance to Manilla.

Welcome sign North of town on Hwy 45.

Abu Bekr White Horse Patrol from Sioux City performing at Centennial in Band Shell Park.
Engineer Loretta Schram - riding on Manilla Town engine float.
Barbara Saunders modeling her wedding gown at the Centennial Style Show - 1986

Mattress Race June 7, 1986. four blind folded men carry a small girl on the mattress. She tries to verbally direct them around the bales and back to the line. Unfortunately they headed towards town.
Pre Centennial Fun Day.
---
Registers Annual Great Bicycle Ride Across Iowa RAGBRAI Route Hosts l994 and 2001
Thunder Mug Race (Ragbrai 1994)
Riders: Pry H - Chuck Offefburger the "Iowa Boy", Tinkle - Sue of D.M. Register, Pass Gas - Duffy of D.M. Register (Cartoonists)
Yellow shirts: Barb Saunders, Charley Schram, Loretta Schram, Mary White.
Charley getting Thunder Mugs ready for RAGBRAI (1994)
Registers great Bicycle Ride accross Iowa (RAGBRAI) comes up Manilla Main St. July 2001.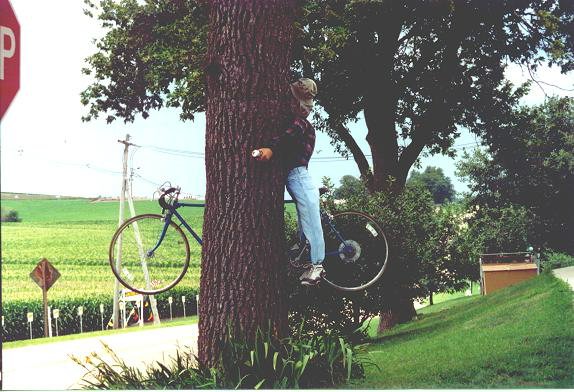 Corner of 5th and State Road M47 Greeting from Joan and Don Bower as RAGBRAI Bikers headed south to Irwin July 2001.
---
Presbyterian Church 100 year Anniversary 1986
Methodist Church 100 year Anniversary 1987
Lutheran Church 100 year Anniversary 1986
Roman Catholic Church 100 year Anniversary 1987
Centennial Plus 10 Celebration 1996
National Historic Klondike Hotel 100 Year Celebration 1997
---
Rededication of Veterans Memorial Bandshell Park.
The Renovation financed by Ron and James Olson in memory of their parents Clyde and Deipha Olson 1996
The original Memorial Bandshell was designed by Charley Schram, Sr. and built during World War II 1943 A skilled letterer, he drew the names of Manilla residents who were called to serve during that conflict and displayed those names on both sides of the arch.
---
Booths at State Community Betterment Day
C.B. Singers from Manilla - Entertaining on the Coke Stage at State Fair 1987 Men's Trio Mark Grundmier, Allen Olson, Nyle Gruhn.
Lorretta Schram - Booth at State Community Betterment Meeting 1983. Hotlon Colaseum - Ames, IA.
1984 - Manilla Booth at State Community Betterment Meeting.
Jenny Rasmussen, Loretta Schram Happy Winners! Nov. 1985. State Community Betterment Meeting.
Manilla Times - Governor's Media
Governor Terry Brandstad, Jolene Sievertsen receiving Governors Media Award.
Iowa High School Girls Athletic Hall Of Fame Day
1920—Early 30's Annual Corn Shows Held in Germania Hall & Opera House.